Pelt Colors
In Warrior Cats Untold Tales, after choosing a save file (if you are starting a new save and not coming back to an old one) you will need to make your cat. In terms of pelt colors, you have an array to use without having to get anything although you can unlock other pelt colors by spending bonus coins.
Please note that if you want to learn more about pelt colors, there will be a link below to an article which focuses in more detail on JUST pelt colors. (article link)
Eye Colors
Alongside pelt colors, are the eye colors. Like pelt colors, there is an array of colors you can pick (yellow, blue, light blue, etc.) but unlike pelt colors, you cannot unlock new ones.
Names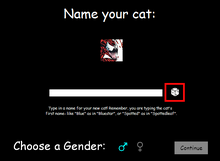 After completing the looks of your cat, you must name it. You must name your cat in two parts. (ex. Dark & feather) If you are having trouble naming your cat, the game provides a randomizer option which will pick random name (which still makes sense) for your cat.
Gender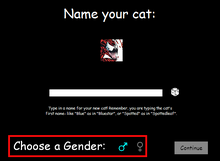 On the same screen in which you name your cat, you get to choose their gender. it's very simple, all you have to do is click one of the genders to choose.
Clans
You can choose your clan in the game. ThunderClan is always unlocked, but you have to unlock the other three clans before you can play in them. If you choose not to do the tutorial first, you can become a rogue instead.
See Also